Where do the scientists sleep?
Stretching 180 feet, the Atlantic Explorer— a medium sized research vessel–can support scientific teams for several weeks. It's fully equipped with a kitchen, living quarters, 3 laboratory spaces, and 2 common areas—- and even a treadmill if you're brave enough to use it!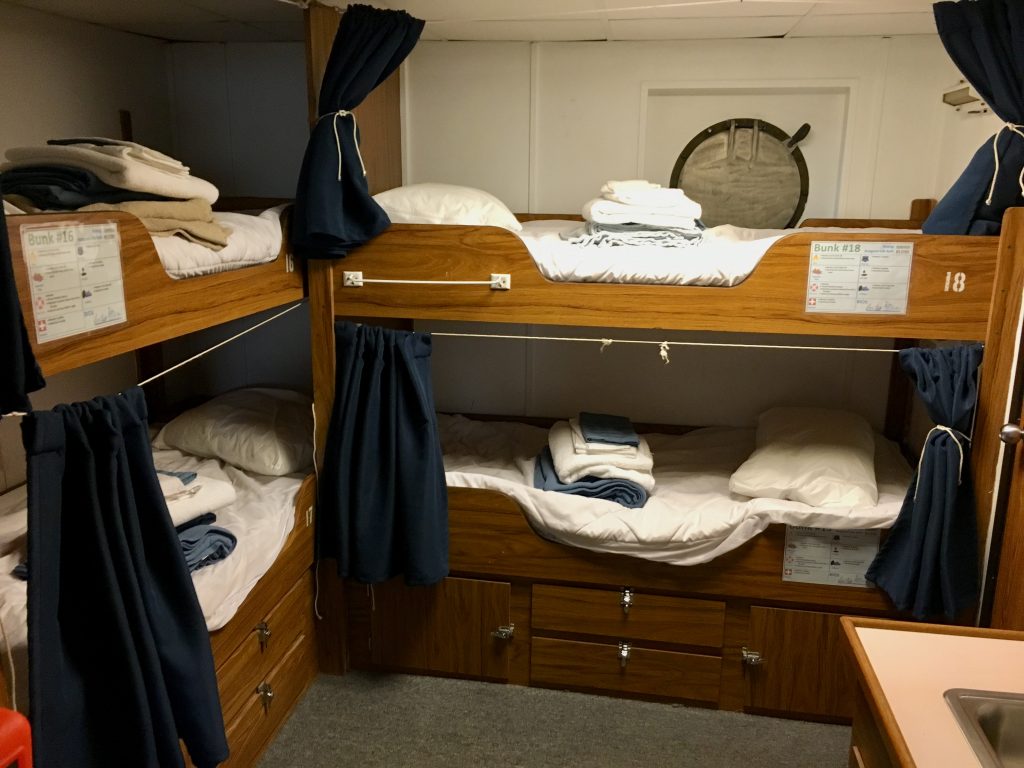 While the layout of staterooms varied from person to person, almost everyone aboard had a shared room and bathroom. This is not an uncommon set up for living in the tight quarters that research cruises offer.
My personal room set up was two compact bunkbeds, nestled into a corner of a room with a sink in the opposite corner. The beds had deep blue privacy curtains that worked remarkably well at blocking out the bright fluorescent overhead light in our room.
The room had a noticeable lack of natural light with only one small port hole allowing a view of the ocean. While the port hole was present, it was blocked by a heavy metal, seemingly waterproof shade for most of our time aboard. We were always in and out of the room, never knew when someone was resting and on top of it all, we couldn't figure out how to latch it open…
My roommates and I noted how the lack of natural light let us lose track of the time of day— a feature that is beneficial to a boat that has crew working 24/7. Out of courtesy to those who may be sleeping at odd hours of the day, everyone made a conscious effort to tread lightly on their feet, keep the conversations quiet and cautiously close heavy stateroom doors when on the second floor.
Our state room was connected to a shared bathroom. A skinny door in our room led to a small space with a shower and toilet opposite to each other and a door opposite to ours. The compact bathroom on this cruise was shared between 7 people, surprisingly with relative ease.
While living in such close quarters for extended periods of time might invite challenges, the group aboard this trip had no issues brought on by the living situation. By virtue of having courteous and respectful coworkers on board, the main hurdle to overcome in our rooms was not falling out of bed on the especially rocky nights!