If you give a chemist a cookie
One of the best things about being aboard the Atlantic Explorer—- other than the budding scientific discoveries and the intellectual spirit— is the food.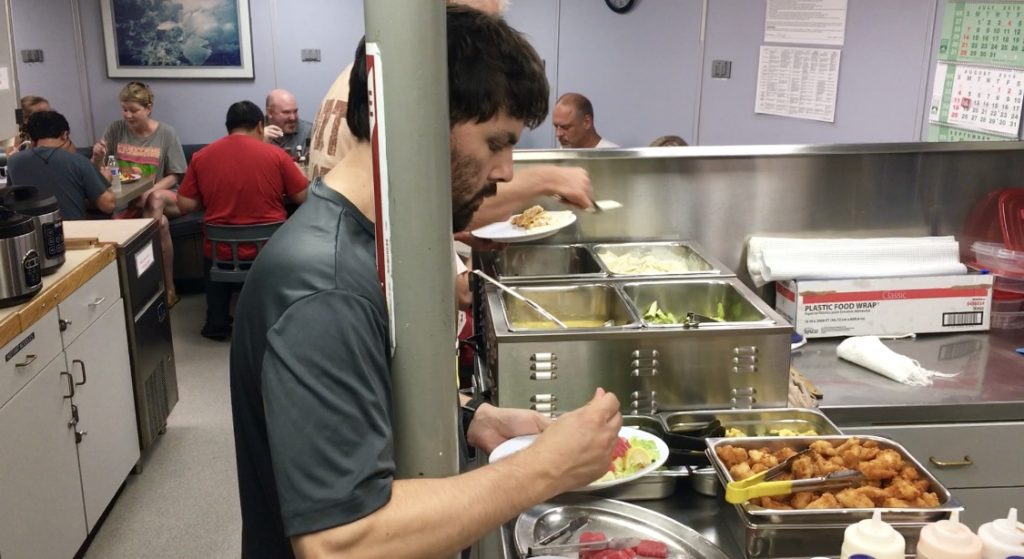 When interviewing some of the scientific crew before even departing for Bermuda, I had more than 5 people tell me that they were most excited for the food.
Aboard the ship are two cooks, who whip up incredible homemade meals three times a day, every day. From curry to wings to hamburgers, our tastebuds are never bored at sea.
Because there are so many moving parts and people on the boat, there are set meal times– each an hour long while at sea– allowing technicians, crew and scientists to filter in and out of the galley, a room reminiscent of a diner, where everyone onboard can sit down for meals.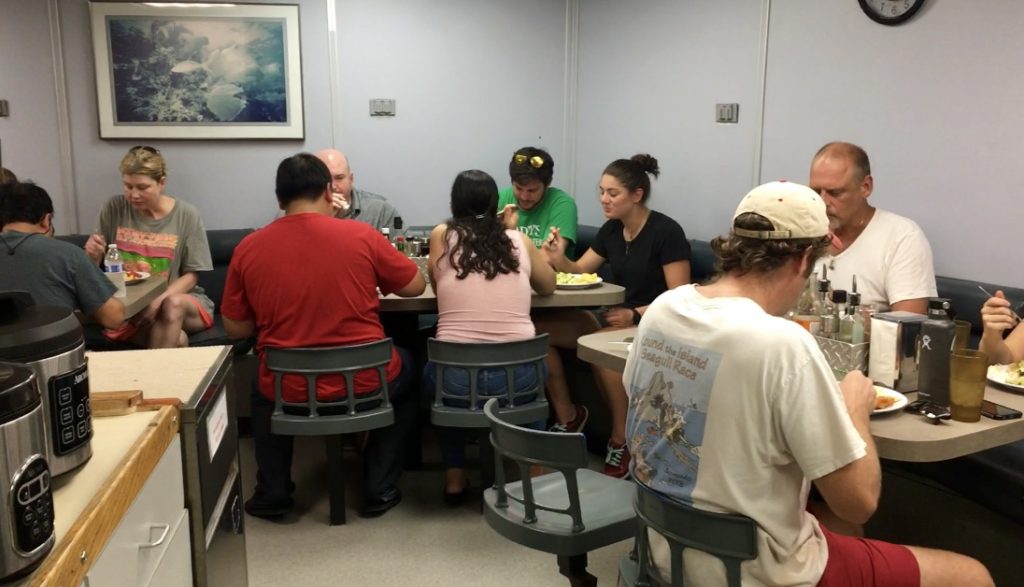 There are obvious challenges when cooking on a rocking boat but the Atlantic Explorer is well equipped to deal with these challenge. Plates and bowls have rubber bottoms to prevent them from sliding off the tables, sauces on tables were secured in metal bins that were screwed into the tables, which are also firmly bolted to the floor.
While most of the kitchenware was locked in place, it's quite a sight to see people aboard dance to their seat as they try to get balanced with a full plate in one hand and full glass in the other. There are time when the waves get the best of us and silverware slides off the table, but as the days go by we're getting better at catching things as they are sliding away.
While there were specific meal times when food was put out buffet style, there was always something in the kitchen to eat—-especially sweets.
Two tupperware containers stand tall and firm on the kitchen counter weighed down by the homemade cookies that can be found inside. Chocolate chip, oatmeal raisin, ricotta, you name it. It was a temptation that almost everyone on board succumbed to.
On top of the homemade goods, there were drawers of candy and crackers if that's what you were in the mood for or even left over scones from breakfast. The one thing I'm certain of is that I won't going to go hungry on this boat.
I'm positive I'm going to miss the food aboard the Explorer along with all the people I got to share it with.