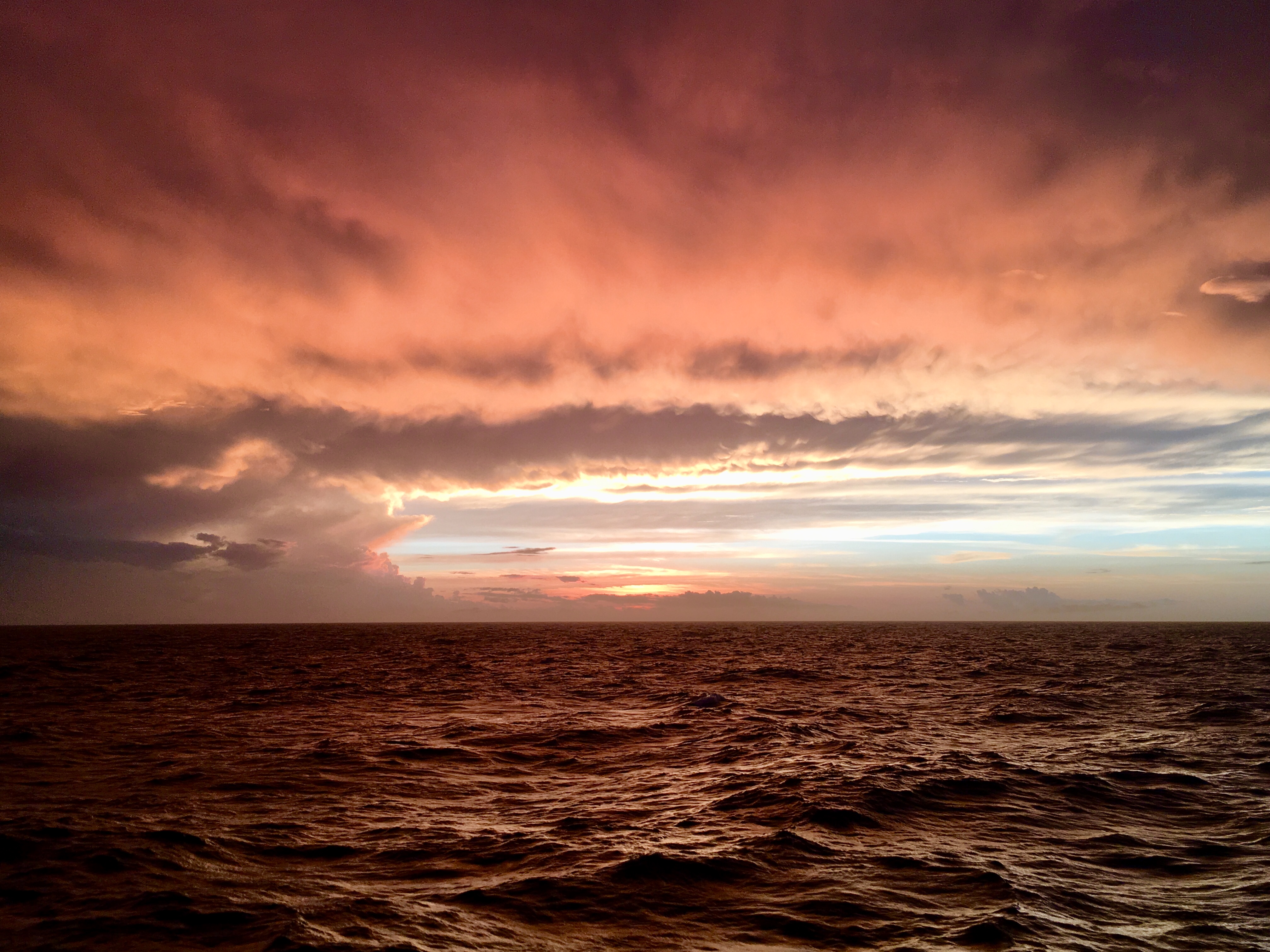 It was an early morning for scientists aboard the R.V. Atlantic Explorer with the first of the casts coming up at 3:30 a.m., after an especially rocky night.
Captain Quentin Lewis informed the head P.I. that seas were rougher than they usually are for this time of year. The boat seemed to be constantly shifting its weight from it's port side to it's starboard-side as short-lived rainstorms passed over the ship.
One of the first safety measured we learned upon boarding the boat was a classic idiom, only this was literal and came in handy today.
"One hand for yourself and one for the ship."
Those aboard who had never been to sea learned how this saying reigned true. At meal times, while almost all plates, bowls and sauces were secure on the tables, cups and utensils began to slide and rattle against each other. Toiletries kept in showers were no longer on the shelves and everyone aboard was sure to keep at least one hand on the ship.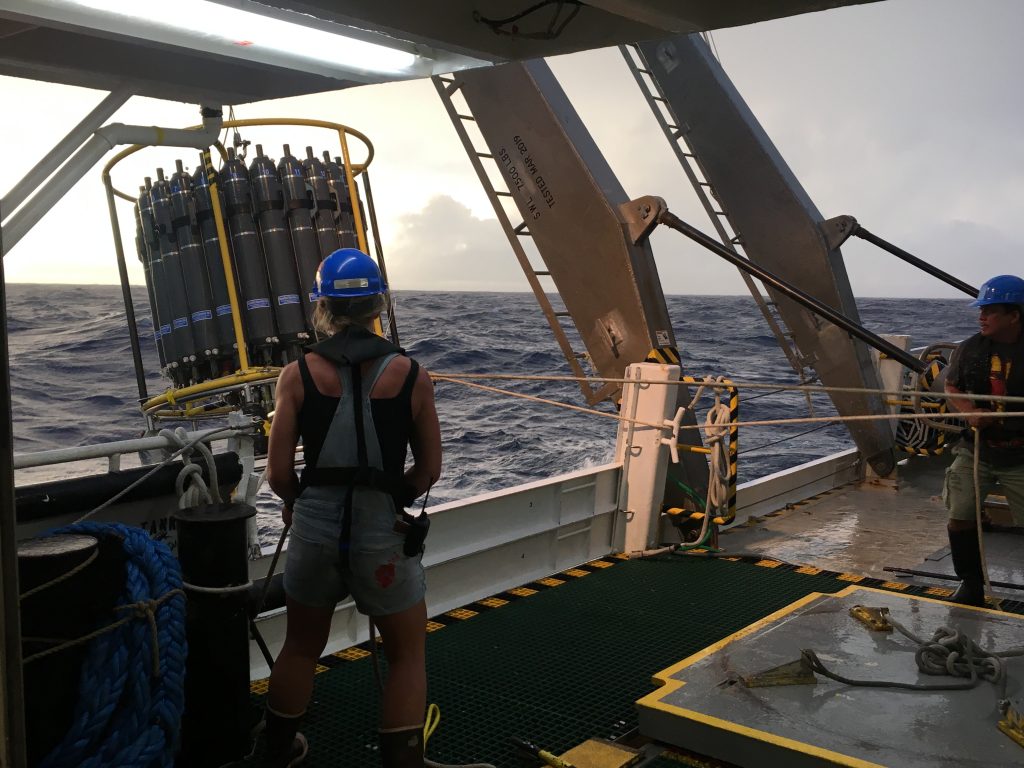 While rough seas might have been an inconvenience, they were not trouble enough to stop sampling from happening. Every few hours the CTD would rise from the water, delivering samples to awaiting scientists. One noticeable difference when the seas were rough, is the frequency at which ocean waves wash aboard the stern of the ship.
It seemed that every couple of minutes a wave would collide with the side of the Atlantic Explorer, ensuring the back deck was never dry.
Carrying water coolers full of sea water as you walk down a fun-house like hallway that shifts back and forth is no easy task. Another challenge on top of that is traveling with containers of acid, used for sterilization, from lab to lab. Safety is a top priority aboard the ship, so another slogan of the day was "slow and steady wins the race."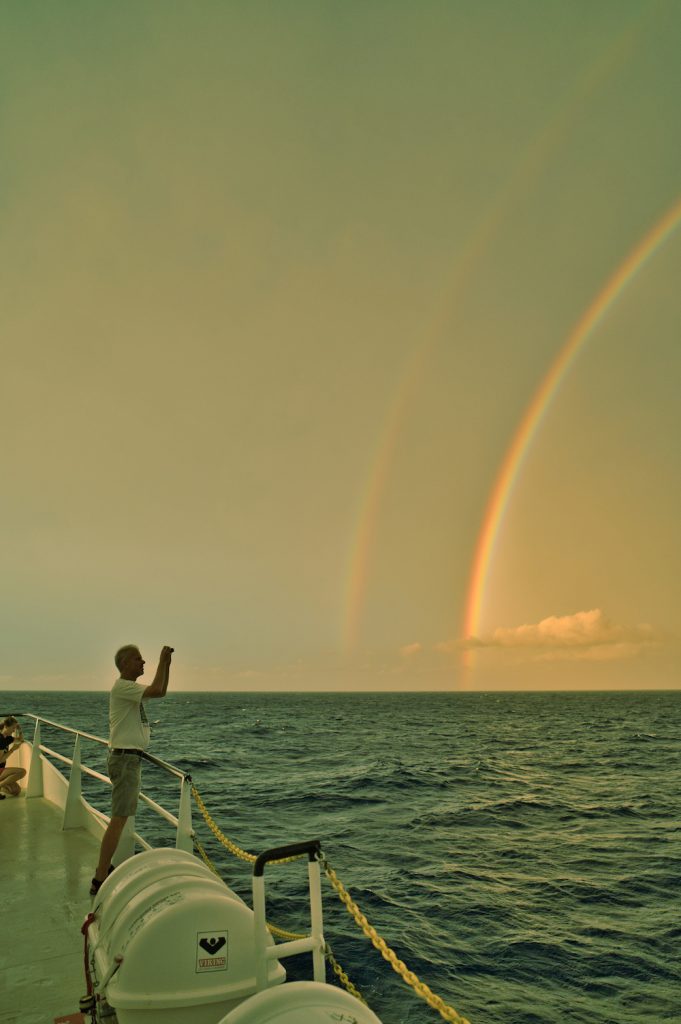 Besides the challenge of slightly rougher seas, there weren't many setbacks with the science. Microbial ecologists from continued to filter samples and prepare extractions, but now with more caution and precision.
It was a rough day at sea, but from all the rain and waves came a sunset and rainbow that may have made it all worth it.
From the port side of the ship, a deep colored double rainbow appeared across the entire sky, creating a perfectly colored breath-taking semicircle.
From the starboard side, the sky was painted different hues of orange and pink while the sun began to set, surrounded by the remnants of rain clouds.
It was a beautiful ending to another day full of science at sea.